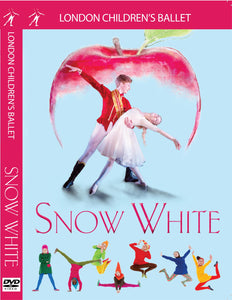 Snow White (2015) DVD
Regular price £11.99 Sale
Choreographer: Jenna Lee
Composer: Richard Norriss
Costume Design: Sarah Godwin
Set Design: Ellan Parry
Lighting Design: Mark Jonathan

London Children's Ballet's fresh take on the classic fairy tale. Snow White finds herself in the company of seven characterful dwarves after her evil stepmother attempts her revenge on her for being 'the fairest in the land'. How will Snow White ultimately fare when the stepmother decides to take matters into her own hands?
Snow White is a captivating revival of the beloved magical story. Based on the original Grimm's fairytale, Snow White is born in the midst of a raging snowstorm, which claims the life of her mother, the Queen. She grows up at the palace with her loving father, until one day a beautiful, beguiling woman appears. This woman, with powerful magic at her fingertips and an all-seeing mirror, steals the King's heart and he marries her. But all is not well. When Snow White becomes the fairest of them all, the new queen is consumed with jealousy and plots a poisonous revenge on her lovely stepdaughter. The adventure leads Snow White into the forest where she finds new and rather unusual friends. But can seven pint-sized people protect her from an evil queen, or will Snow White's fate rest in the hands of a lovelorn prince?